Bachelors in International Culinary Arts, also known as BICA, is a four year degree program. The course is specially designed for students who want to specialize in food production.

It is a four year program with eight semesters, where six semesters will be conducted at Silver Mountain's state of the art facilities at Lainchour. For the remaining two semesters (fifth and eighth), students conduct their internship at luxury hotels in Nepal or internationally.
Silver Mountain also boasts of special career counseling unit for the students. With international certified career coach in house, we assist students for job placements after completion of courses and programs as well. This adds value to their whole learning experience.
Free Internship
No Hidden Cost
100% Internship Placement
A Truly 100% Academic Course
Total fee for 4 years is Rs. 8,96,000
State of art kitchen and facilities, with courses taught by industry
Our partnership with QMU makes the whole experience worthwhile and career centre.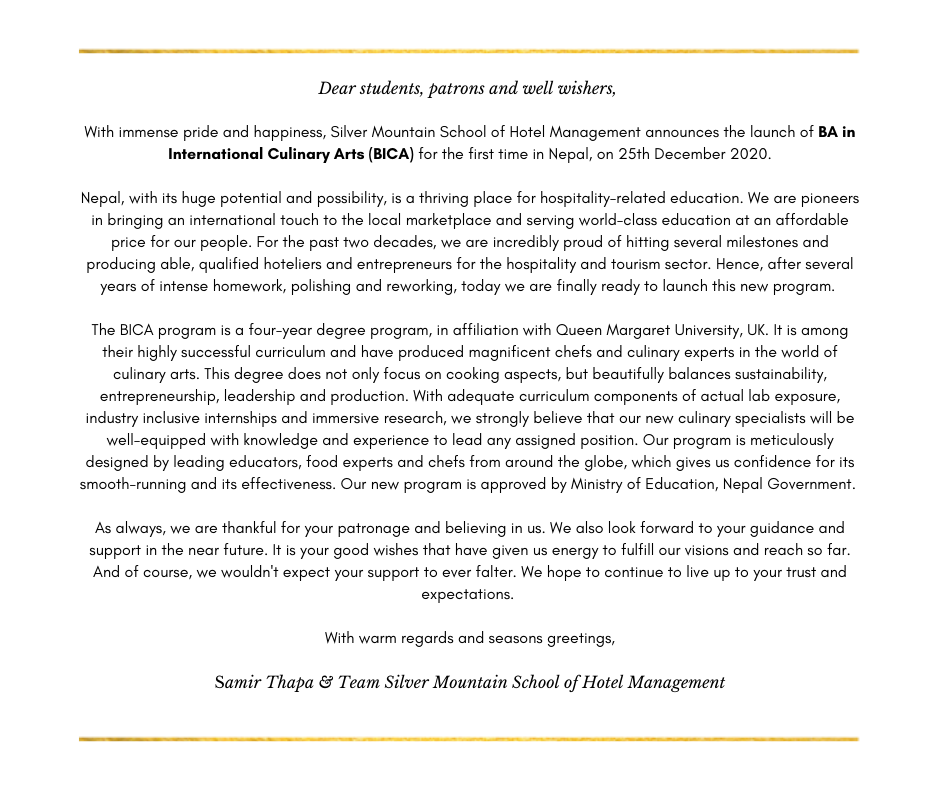 BICA 4 Years Course Contents
Service Basics
Food Safety & Sanitation
Food & Beverage Service I
Business Communication I
Professional Cooking 1
Culinary Math
Business Communications II
Food & Beverage Service II
Professional Cooking II
Sales & Marketing Management
Revenue and Menu Management
Financial Accounting
Human Resources Management & Supervision
Advanced Gastronomy I
French
Hospitality and Restaurant Management
Rooms Division Operation
Nutrition and Food Science
Purchasing & Product Identification
Advanced Gastronomy II
Event Management
Food Journalism & Photography
Modernist Gastronomy
Sustainable Tourism
Understanding the Food System
Food Culture and Society
Food and Communication
Culinary Concept Development and Production
New Enterprise Creation
Contemporary Food & Drink